How To Build A Recession Proof Business, Sharing Your Passions and Hobbies In The
Information Marketing Business
With Little Effort
My Family Laughed When I Told Them I Was Selling "How To" Information About Grand Father Clock Repair,
But When I Showed Them My Bank Account Statement …..WOW!

Hi, thanks for coming to this page to find out more about how to have a successful Information Marketing business.
I know you got a lot of valuable information from my book chapter titled "The 5 Keys To Effectively Marketing Your Business" that was published in "Entrepreneur Magazine's Start-up Guide to Information Marketing"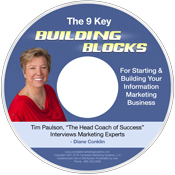 If you'd like more of the same kind of valuable information, then fill out the form below and I'll send you my FREE Audio titled "The 9 Key Building Blocks For Starting & Building Your Information Marketing Business". In this Audio, you'll get even more details about the specific strategies you need to start, and effectively grow, an Information Marketing business.
So, go ahead and completely fill in the boxes below, and I'll get the Free Audio out to you right away.
As an additional bonus, for getting the FREE Audio, you'll be signed up to receive my weekly electronic newsletter, "The Silver Lining Marketing Letter™". It's filled with the same useful content you enjoyed in my book chapter, and you'll get it, or a short marketing tip, from me every week.
Thanks again for visiting. I look forward to hearing from you about your many successes in the weeks and months to come.

Sincerely,

FREE Audio…. 
Tim Paulson, Superstar Marketer and Coach interviews Diane Conklin 




($79 Value)

My Gift To You! Grab Your FREE Audio Now!


FREE …. Eye Opening Special Report, "The 9 Mistakes All Marketers Make and the Secrets You Need To Know to Avoid Them" ($49 Value)



©Copyright 2019 – Complete Marketing Systems – All Rights Reserved 1227 Rockbridge Road, Suite 208-247, Stone Mountain, GA 30087 Phone: (866) 293-0589 – Email: info@CompleteMarketingSystems.com