How To Easily Make More Every 90 Days Than You Typically Do In An Entire Year!
I Thought So Too… Until I Did It!
Your 90 Day Year™
November 9-12, 2020
9:00am - 1:00pm Eastern
Virtual Online Event
Hi –
Imagine for a minute making as much in the next 90 days as you typically make in a year…
What would that feel like?
What would that look like?
What would that mean to you!
Especially now, when things are so uncertain.
Simple, yes!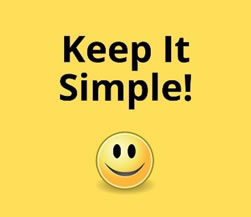 Easy, maybe not… but few things worth having in this life, and in our businesses, rarely are.
Surprised I said that?
Others will tell you it's SO easy to build a 6, 7 or 8 figure business.
They'll tell you there's no work involved. They will try to convince you that one day you'll wake up and there will magically be $1,000,000 in your bank account.
I'm not going to tell you that…
Because it will take work to get where you want to go. AND, you already knew that!
Your 90 Day Year™
November 9-12, 2020
9:00am - 1:00pm Eastern
Virtual Online Event
This Event Is Limited To

30 People

, And 30 People Only, So Once 30 People Are Registered, There Will A Waiting List!!
Your 90 Day Year™
November 9-12, 2020
9:00am - 1:00pm Eastern
Virtual Online Event
You Can Make 6 Figures In The Next 90 Days…

WAIT!
Before you call BS and go away, let me tell you how I know this can happen and why I said you CAN and not you WILL!
We're all skeptical…
I was too!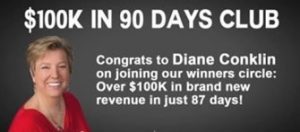 But I did it! Yes, I made $108,150.00 in 13 weeks between March 16th and June 8th.
Let me explain how this happened… and I'm only telling you this to prove to you that it can happen. And more to the point, that you can do it too!
I'm not more special than you are.
I'm not more capable than you are.
As a matter of fact, I was at a low point in my life and business when I started this.
I was on Facebook one Saturday morning and saw an announcement for a live stream coming later that day. I decided to listen to the program about making 6 figures in 90 days.
I was skeptical but I respected this guy. And to be clear, I wasn't skeptical that it could be done, because I've helped 31 people do it in my career.
Truth is, I was skeptical that I could do it – at least at that time in my life and my business.
I wasn't going to buy anything – just listen and watch…then I started taking notes and engaging in the Livestream.
A couple days later I was the phone and signing up for a 13 week program.
I still didn't believe I could do it. I set a goal to make $40,000 in 13 weeks – because that was where my belief level was at that point in time.
Speaking of belief… sometimes, all you need is one person to believe in you and it changes everything in your life and business.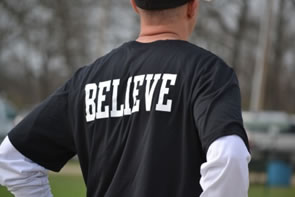 Ever feel like nobody believed in you?
Ever lose belief in yourself?
I found that belief again while doing this and I want to help you find some belief too…
I believe in you and I want to help you.
We all have doubts, and sometimes, it just takes a slight shift to see things differently.
By the way, here's proof. You can see how I did each of the 13 weeks – and 2 weeks were zeroes.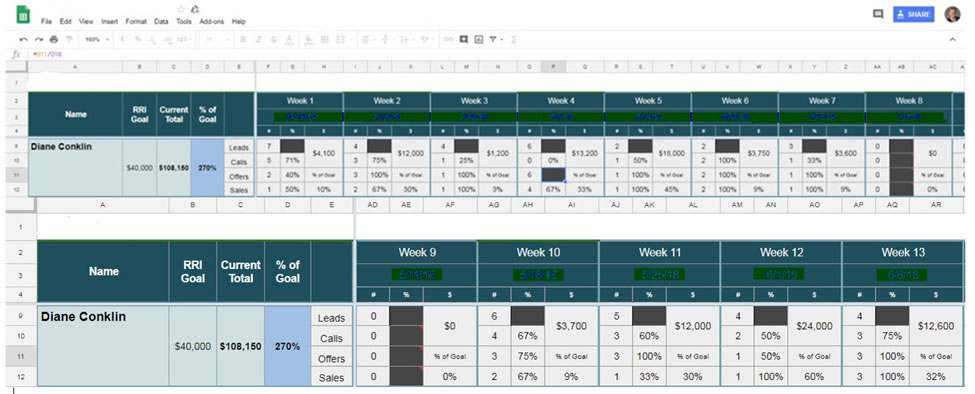 $108,150.00 in 13 weeks. 90 days…
Maybe that seems like a lot of money to you in a short period of time and maybe it seems like no big deal to you.
Either way…I know one thing for sure…
… you can do that – or Better!!
Business Looks A Bit Different Today Than It Ever Has…
It's interesting when people say things like "who saw this coming," or "nobody could have predicted this."
My clients have been shifting their businesses since January. We saw this happening, in other places around the world, and they knew they had to be ready.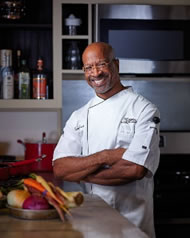 One of my clients is a caterer. A lot of caterers are in serious trouble right now. Some caterers have gone out of business in the past few months. Not Carlton Brown of Occasional Occasions…
He's started two new businesses in the past few months as he waits for people to begin to reschedule weddings, corporate events and have home parties again (and they will).
Carlton started "Curbside Cuisines". This is a company that delivers home-cooked meals to people (or allows them to pick them up). Better food than a restaurant and he offers a wide variety of options…healthy and otherwise!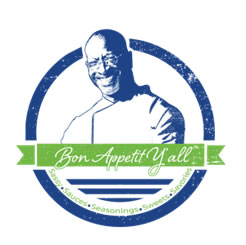 And, he's added a monthly subscription (continuity) box with jams, jellies, sauces, seasonings and more.
All that in less than 90 days. He's growing, not shrinking. And, certainly not sitting back waiting to see what's going to happen in the world or the economy or anything else.
He's making things happen.
And, YOU can too!!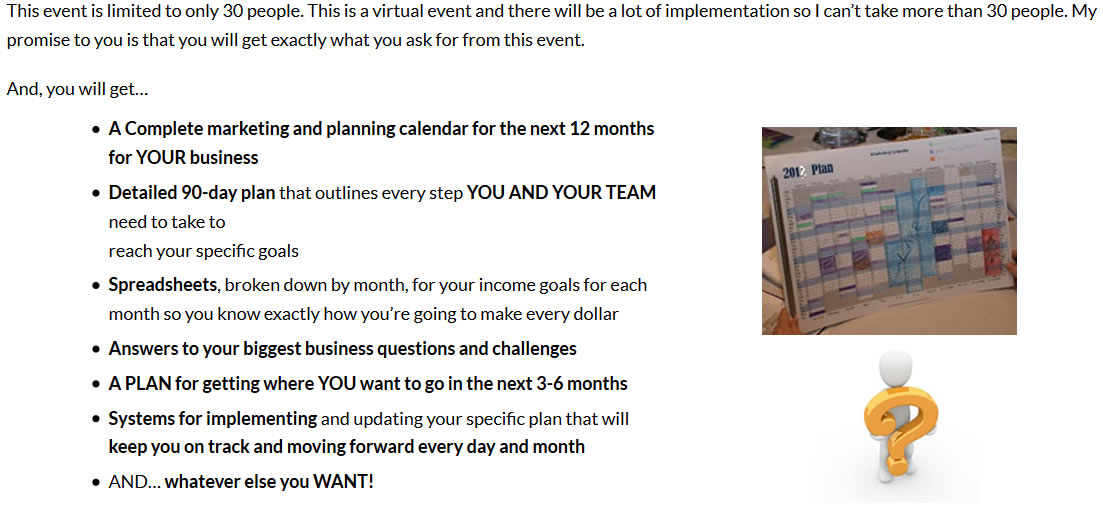 Your 90 Day Year™
November 9-12, 2020
9:00am - 1:00pm Eastern
Virtual Online Event
Limited to

30 People

Only!
The Power of This Event And The Effect
It Can Have On Your Business

I want to share the story of Joan Ford and her progress…in her own words.
Here is where Joan was when she first came to one of my events…
"I Was In A Very Bad Place When I Attended My First Diane Conklin Event…
Diane Helped Me Get On The Other Side of That"
"The first time I attended one of Diane's events, I was in a very bad place. I was overwhelmed, in debt, and feeling like my business was not going to recover. My business was running me. I'd been in this movie before: coaches collecting a monthly fee and all I got was a whole lot of the same milk toast advice and deeper in the hole.
But I knew my business had potential, I just didn't know how to tap into it. And I didn't need another bad coaching experience.
It took time to work through the junk I had piled on to my business, and I still have work to do, but I can say with confidence that my business is on the other side now. And I know that I wouldn't be here without Diane's support, creativity, advice, and genuine caring spirit. It's so much more fun now that I get to call the shots."
Joan Ford
HummingBird-Highway.com
As you can see from Joan's own words, she wasn't in a good place. She was mad, grumpy and upset (and she had reason to be). She had invested a lot of money in a coach who didn't help her grow her business. I'd go so far as to say she got some bad advice.
AND, she was open enough to know something had to change for her. She was skeptical but she stepped out on faith (like I'm asking you to do), worked hard to change her business and has come out on the other side…
I got this email from Joan just before one of my previous events…
And, it has gotten better for her since that time.
Joan will be one of the 30 people on this virtual event, so you'll get the chance to meet her – she is a real person, with challenges, just like all of us. AND, she's growing her business and experiencing new things everyday – but NOW, she's doing it her way!
Like Carlton, who you read about earlier on this page, Joan is also developing a brand-new program during this time.
And, she's a lot happier!
Come see for yourself…
Your 90 Day Year™
November 9-12, 2020
9:00am - 1:00pm Eastern
Virtual Online Event
The 30 Person Limit Is REAL, Not Made Up…
When We Get To

30 People

, The Event Will Be

SOLD OUT!
Want To Make 2021 Your Best Year Yet?
Your initial, gut reaction to that question is more than likely "Yes." Afterall, what business owner in their right mind, wouldn't want to have their best year in the coming months?
But the question is deeper than it initially seems.
I'm going to ask you to really take a minute and think about the REAL answer…
… your true desire… your dedication… commitment...
See, it's easy to say "YES" to questions we think we're "supposed" to say yes to.
It's much harder to commit to them and be willing to do WHATEVER IT TAKES TO GET THERE!
AND, there is absolutely NOTHING wrong with it, if your answer is that you thought you wanted something, but you also know in your heart of hearts you aren't willing to do the work…
… it's ok – you don't need anybody's approval to be ok with that position.
There are people who want a Million Dollar business, for example, but they aren't willing to do what's required to earn it – as long as you know that, you'll save yourself a lot of heartache and grief.
Like a former client who built a multi-million business in her younger days. She now recognizes, as a single mother who wants to spend as much time with her daughter as possible, that her current $500,000 a year business is perfect for her now.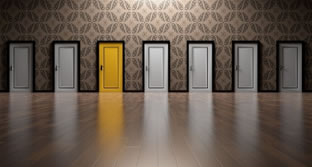 It allows her to work 5-6 hours a day, 5 days a week, have breakfast with her daughter, drop her at school and pick her up every day. She goes to all of her daughter's sports activities and they have dinner together every night. That's more important to her than the money she could be making by working more hours.
Isn't it terrific to be able to make that choice?
Just be real with the answers you give yourself so you can set realistic expectations that match the level of effort you're willing and able to put in.
Your 90 Day Year™
November 9-12, 2020
9:00am - 1:00pm Eastern
Virtual Online Event
This Event Is Limited To

30 People

, And 30 People Only, So Once 30 People Are Registered, I Will Start A Waiting List!!
"I Went From Scared & Uncertain To Focused
& Confident…"
"This is my first event with Diane Conklin, and I have to say before I came, I was scared to death about starting my new business, but I feel so much better now. Thanks to Diane I learned I need to really focus. And, I discovered the importance of zeroing in on why I'm doing what I'm doing and how to be more strategic in what I'm doing.

I'm so impressed that I've already signed up to come to her event. The bottom line for me is that I came into this hoping I would find a gold nugget or two, and I actually found several golden nuggets of information and I had several 'ah-ha' moments.

I'm very, very happy I came, and I highly recommend you come to Diane's next event."

Jessica Sotelo
The Nonprofit CEO
Blackfoot, ID
"No Reason To Learn By Attending The School of Hard Knocks When This Is Available"
"Finally, it has been done!

Diane Conklin has combined her years of experience of working with some of the best marketers and has created a no-nonsense, easy to understand, foundation for anyone who is interested in getting into business or for people who are already in business and are looking to sharpen their skills.

If you're looking for a shortcut to building your list, fast business and marketing development, or creating BIG paydays… you've just gotta attend this event and see what she's created!!!

I wish I had this 20-years ago when I first went into business instead of learning by attending the School of Hard Knocks."

Bill Glazer
Former President of Glazer-Kennedy Insider's Circle™
Bill Glazer Consulting
Baltimore, MD
"If You're Tired Of The 'Content-Lite' Events, Then This Is The One For You"
"I've attended Diane's live workshops so I can personally attest to the quality and comprehensiveness of the content she provides. Her events are the best I've ever attended for just that reason – besides the fact that it was a blast – and we all learn best when we're having fun.

Diane is a no-fluff, straight-shooter, who's an extremely talented marketer. In all the training and learning I've had with Diane since I first met her in 2007, I've lost count of the number of aha's I've gained from her. Dozens of them have saved me not just time and frustration in trying to figure things out on my own, but thousands and thousands of dollars.

After attending one of Diane's workshops I was amazed to realize how much money I actually could have wasted trying to do things on my own, without any sort of guidance. I needed to learn from an expert, and that expert is Diane. I left that training with a written map of exactly what to do to plan, market and build my business. It's a huge success.

If you're tired of the 'content-lite' events, then this is the one for you."

Alicia Forest, MBA
6-Figure Business Breakthrough Mentor
www.aliciaforest.com

---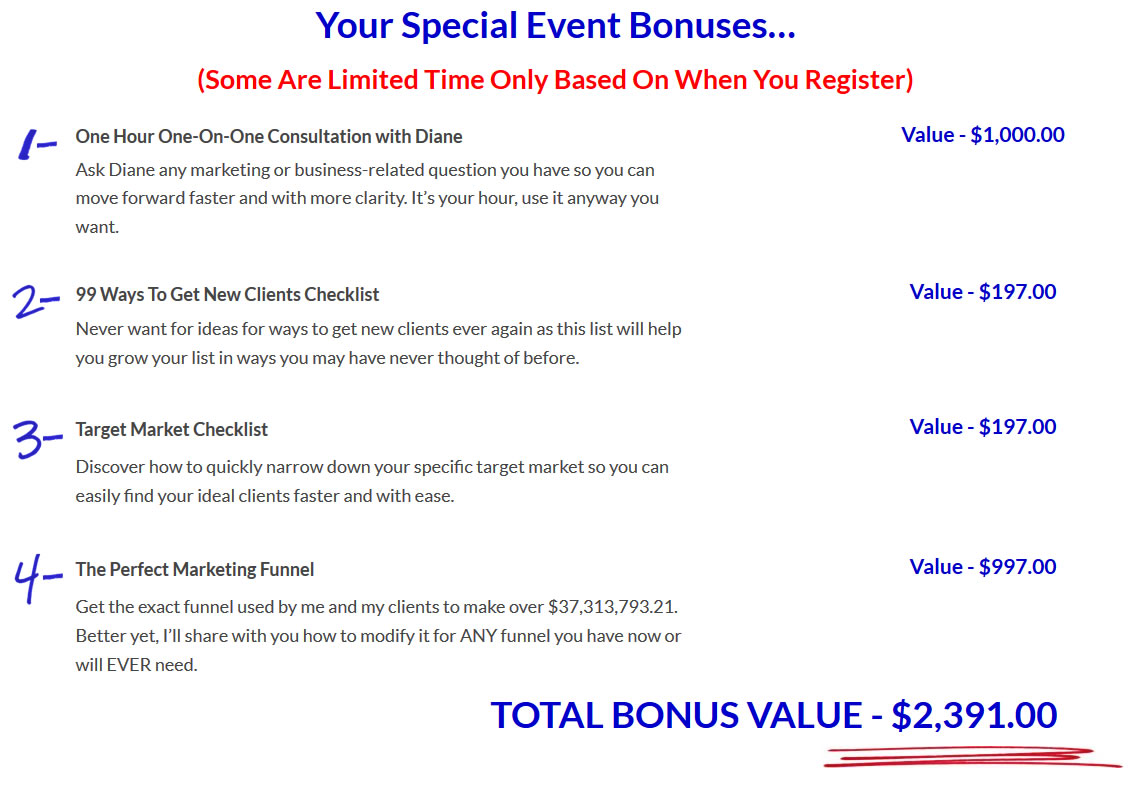 Your 90 Day Year™
November 9-12, 2020
9:00am - 1:00pm Eastern
Virtual Online Event
See you there!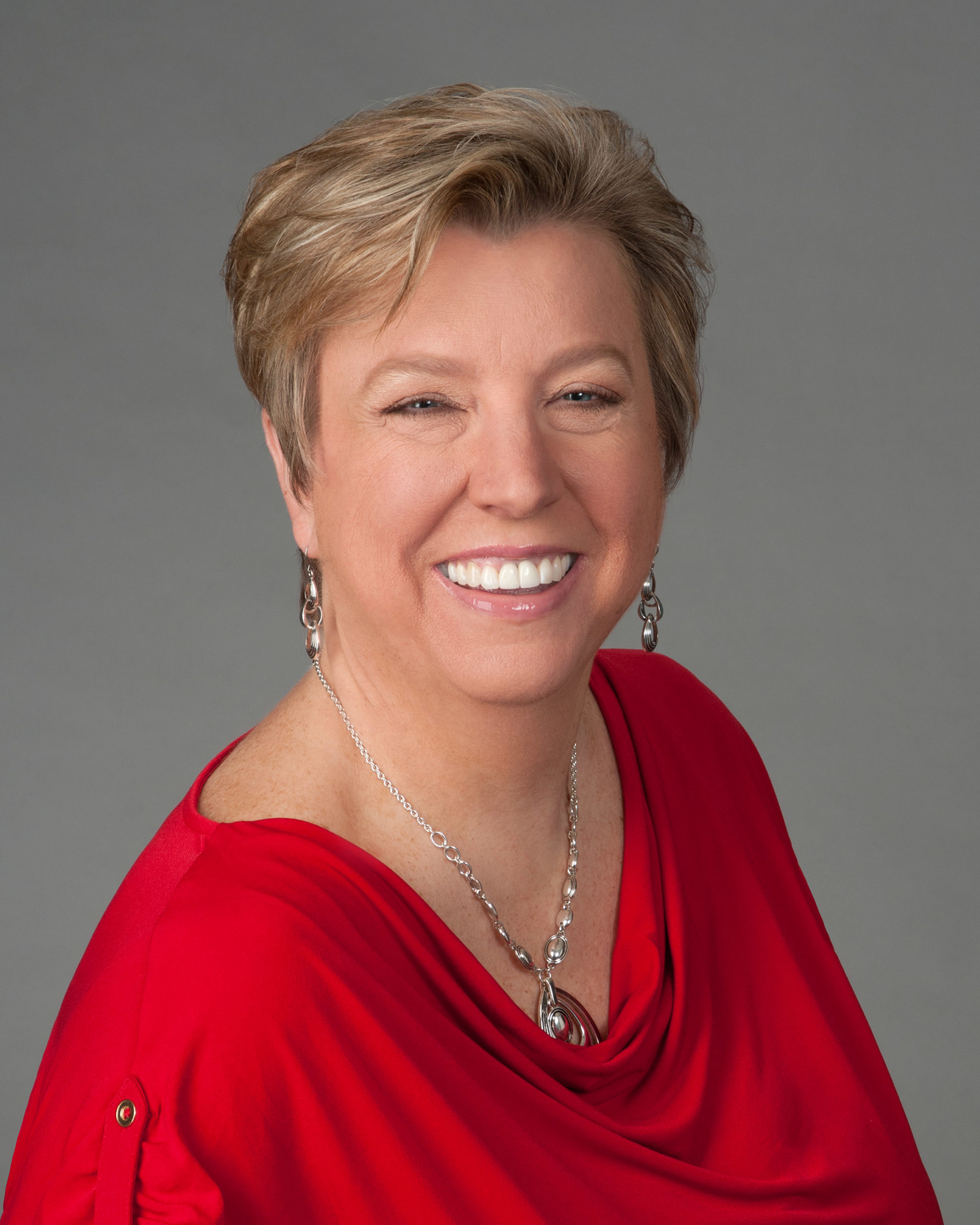 PS – Take advantage of my 100% unconditional money back guarantee. Participate in the entire event and if you aren't 100% happy, feel like you didn't get more than your money's worth, or for ANY other reason are unhappy, I'll give you your money back.
PPS – Don't forget this event is strictly limited to only 30 people – once 30 are registered, we will close registration and start a Waiting List.
Your 90 Day Year™
November 9-12, 2020
9:00am - 1:00pm Eastern
Virtual Online Event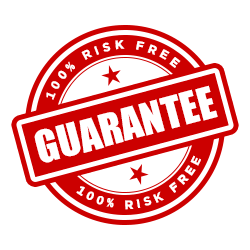 REFUNDS & CANCELLATIONS: If something comes up and you can't attend the event, you have up until 30 days before the event to let us know and we will issue you a full refund, or you can apply the fee to the next Complete Marketing Systems event.
GUARANTEE: You can attend all of the days of this event and anytime before the end of the last day, if you aren't happy with what you have received, just come tell me, turn in all the materials and I'll issue you a full refund. You have nothing to lose…I'll take all the risk!
Your 90 Day Year™
November 9-12, 2020
9:00am - 1:00pm Eastern
Virtual Online Event
CONTACT
Want to learn more about our amazing event? You can always contact us directly.
We promise to answer all questions and respond to all inquiries.