June 14th, 2018 by Diane Conklin under Business - General. No Comments.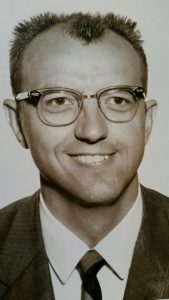 In case you're wondering, that picture…it's of my Dad, Lowell Conklin. This is how I love to remember him…well, like this or throwing a softball with me or shooting hoops or some other sports activity!!
As we approach the middle of June and with Father's Day coming on Sunday, I find myself thinking a lot about my dad.
We all have our journeys with our parents, and I certainly have had mine.  Some good; some not as good.
When my dad died his body was ravaged with cancer – pretty much his entire body – and it was difficult to watch this man I knew as a hardworking, strong man go through this.
As I take some time to reflect on all my dad was, I realize that a lot of who I am as a business person is because of my dad's influence.
Here are just a few things that come to mind…
1) Working Hard / Having A Good Work Ethic – for most of my life my dad worked a full-time job, farmed the 75 acres we lived on plus about 400 more acres, and almost never missed a sporting event or anything else any of his 3 kids were involved in.
Hard work, whether it was to get good grades, to help out on the farm, or to go for something I wanted…that was at least part of how you achieved it. People sometimes ask me how I get so much done – it's my understanding that working hard is something to be proud of, not something to shy away from. That and the next thing my dad instilled in me…
2) Discipline – this was something I quickly learned not to question (dad wasn't a guy who wanted to be questioned…especially not by his kids…and there were consequences – I will say no more). This is about more than just a code of behavior and punishment if you didn't obey or follow rules. It was about doing what needed to be done, doing it right and having pride in it.
I still remember him testing me with flash cards and making me do math problems on the blackboard in the kitchen when I was struggling with math in the 2nd grade…every night – whether I wanted to or not. Today, I can easily do math in my head and I'm sometimes faster than a calculator.
Today, discipline is sometimes a word people don't like or aren't comfortable with. In business, discipline means getting things done, doing them on time, doing what you say you will and sometimes even doing things you don't necessarily want to do but committed to or just have to do. I sometimes tell people the way to get things done is to glue your butt to the chair and work during the day and to eliminate distractions.
3) Respect – having respect for yourself as well as other people was important. Everyone was Mr. or Mrs. Or Miss (we didn't use Ms. much in those days) unless and until they told us to call them something else. And self-respect in how you dressed and keeping things neat and tidy as well as standing up for yourself. I know this wouldn't fly now but I can remember my dad telling us to never throw the first punch but if we got hit not to leave the other person standing…it wasn't really about the physical punch so much as about standing up for what you believed, who you were and what was right.
Having respect for yourself and your clients is so important in business. When you respect yourself and others it allows you to do the right thing for everyone involved.
I could go on with more lessons and more stories related to my dad and growing up but I'll stop with just those 3 – because they have served me so well.
I hope you enjoy your Father's Day weekend. If you're a dad, Happy Father's Day. If you still have your dad here on earth with you, whether you live close or far away, whether you have a great relationship or one that is filled with challenges, take a minute and appreciate the fact that you wouldn't be here without him – reach out and let him know.
And, if you don't know your dad or don't feel like you can wish him a Happy Day, then take this opportunity to tell a man who is important to you just that.
I hope you enjoyed this message and not only got some business and life lessons out of it, but maybe you even discovered a thing or two about me you didn't know.
To Your Success –
Diane
PS – Join me in the "Six Figures & Beyond For Entrepreneurs" Facebook Group at www.facebook.com/groups/6FiguresAndBeyondForEntrepreneurs/