December 16th, 2021 by Diane Conklin under Business - General. No Comments.
In today's world, most people make big purchases based on how much it will be per month – I call this "how much a month."
Some people pay for things all at once, but the majority of people buy based on what they can afford (or perceive they can afford – a topic for another time) each month.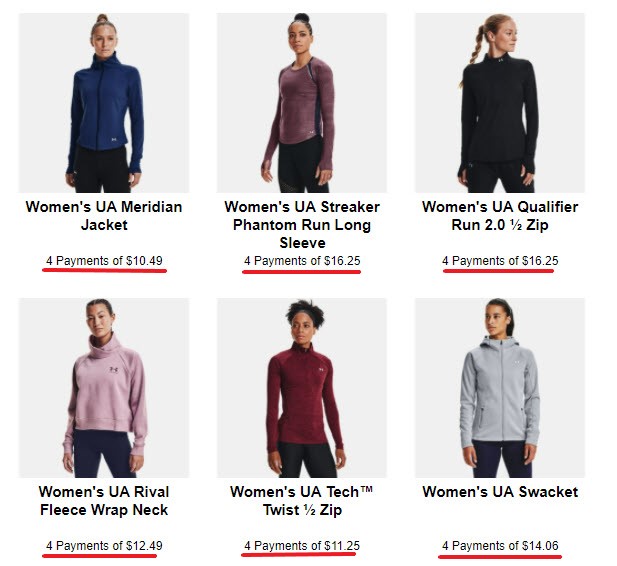 That's why it was so interesting when I got an email from Under Armour (an athletic clothing and gear company) this weekend with this photo in it.
Each item, even though they're all under $70, has a note under the picture with an option to buy it in 4 payments.
There is no reference to how much it is if you just buy it outright. Just 4 payments of and a dollar amount (I added the red underline).
Why is this significant?
Under Armour has noticed a trend and is marketing specifically to that trend to increase sales.
Most people would look at a payment of $16.25 and think that's affordable… I like that item… I'm going to get it – or something like that.
That same person might look at it for $65 and think they don't want to spend $65 right now, or think it's not worth it, or some other justification not to buy it.
But… $16! Why not!
The subject line on this email was "Picks just for you: Time to put 'em to the test!"
It got my attention and made me open it.
And the items they had "picked for me" were in fact items I might buy, they were for women, and the kinds of things I have looked at on their site before.
This is smart marketing. Very smart.
How can you use this in your business?
There are a lot of ways.
By the way, if you want to see other examples of this, QVC is a great company to study, watch, and look at. They are completely sales oriented and there are a lot of lessons you can use in your business even if you watch for an hour.
By the way, a great way to really learn about this is to buy something from these companies. Watch the process, observe what and how they do things, then see what you can apply to your business.
There will almost always be things you can apply and things you learn that you don't want to do or that don't apply to your business. Those are good lessons too.
In case you're wondering, I didn't buy anything the Under Armour – not because it was all very appealing, and I did like what they were offering. I just don't need any more gear right now.
What's your takeaway from this?
To Your Success –