August 4th, 2022 by Diane Conklin under Business - General, Business Strategy. No Comments.
Do you take time off throughout the year?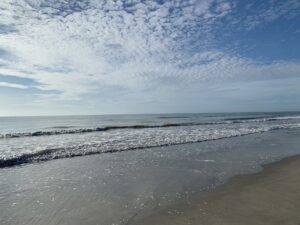 I have a timeshare in Cocoa Beach, Florida. For one glorious week every year I go there and sit on the beach, eat good food, rest, have fun and for the last couple years have been blessed to have shared that time with my love.
Can't you almost feel the peaceful serenity in the picture?
I need to take more vacations…
How about you?
I've heard it said that if you love your life and what you do you don't need vacations, but I disagree.
Time away. In a different atmosphere. Letting your mind flow and be free.
It builds creativity and allows your mind to go to places it doesn't usually go.
And even though you aren't sleeping in your own bed and you're out of your routines, my body always feels so rested when I return.
I think one of the main reasons I always feel this way is I totally unplug.
No emails.
No social media.
No client work.
No calls.
It's freeing…
Are you able to go away for a week (or more) and completely detach?
Or are you constantly checking email and text messages and getting interrupted?
If you can't get away and really take time off without checking in, I'd love to chat with you – I can help. My clients are doing it too – many who never dreamed they'd be able to do it.
You can too.
I'll be back in the office Monday – so if you message me don't think I'm ignoring you – I'm just finishing up my time off.
To Your Success –