August 11th, 2022 by Diane Conklin under Business - General, Business Strategy. No Comments.
After a couple minor slow downs on the trip, we pulled into the resort, went to the room, and got changed for a dinner of dover sole (it's fish… and if you've never had it, you're truly missing out!) and some live jazz music.
Ok, there might have been a couple appletini's in there too… but I didn't have crème brulee (my favorite) for dessert – not that night!
As I pulled back into the resort parking lot, at the end of the evening, the tire light in the car came on.
I promptly replied, "you've got to be shitting me". I had just replaced a tire the week before the trip, after somehow picking up a nail in the sidewall.
I planned to go put some air in it in the morning and get it checked after the kayak tour I had planned.
You know what they say about plans…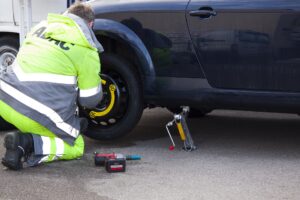 Yep… the tire was completely flat when I got to the car the next morning to head out to kayak.
So, called AAA. They came and put air in the tire, and I drove to the closest Toyota dealer.
Another nail… another new tire.
I was frustrated at first. Disappointed that my plans had to be cancelled.
I wasn't mad like I might have been a few years ago.
As I sat in the dealership waiting for them to replace the tire – and in the days since, I've thought a lot about how things could have gone a lot differently.
Now, I'm thankful it happened in the parking lot at the resort where we were safe and could wait for AAA in a comfortable air-conditioned room.
So grateful we didn't have a flat on the interstate on the way there.
Grateful I have the resources to pay for the tire and not have it affect the rest of the vacation.
Fortunate that the owner of the kayak place gave me a full refund. She offered to reschedule but nothing fit into the schedule.
Her first concern was that I was safe. She even offered to come help with the flat tire. And she checked in later that evening as well – again, just to make sure I got a new tire and that everything was ok.
I will be kayaking with her next year for sure!
It costs nothing to be kind and I was shown a lot of kindness on this day. The AAA guy was very helpful. The money for the kayak tour was promptly refunded and she couldn't have been nicer. The young lady at the Toyota dealership was also very nice and kept me informed while my tire was being checked and then replaced.
Every single person I interacted with was nice, had a smile, was empathetic and very helpful. That's the way business is supposed to be!
All-in-all the whole thing wasn't as bad as it could have been.
I'm pretty sure I picked the tire up cutting down an alley trying to find parking for dinner the first night. Maybe there's a lesson in patience there for me… lol!
The rest of the trip went well.
In case you're wondering… I did have crème brulee once while on vacation. And, a lot of great seafood, fun and laughs!
There's a lesson in every situation and I always try to look for them.
Sometimes, I need a somebody's else help, or nudge, to see them, but they're always there… and I always appreciate the help seeing them!
To Your Success –