September 15th, 2022 by Diane Conklin under Business - General, Business Strategy. No Comments.
So much to share with you from my quick 4-day trip to Jamaica last week!
WOW!
It was great fun and I got to share it with good friends – and made a couple new ones too!
I hadn't been out of the country in a while and being in Jamaica reminded me of just how much I have to be grateful for and how blessed I am.
We had a couple of adventures – which I'll share with you later. One, in particular, stood out to me.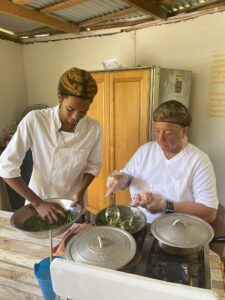 On the last day in Jamaica, we went on a "Taste of Jamaica" tour. I thought we were going to get to sample all kinds of food – we got to help prepare a traditional meal and eat, but it was so much more than that. (That's me helping prepare the vegetables – like the hair net?)
Our group got a private tour with a local woman who took us through every imaginable part of Jamaica and stopped to get fruits, plants, flowers and more to show us things and tell us all about how they use them.
As we drove through upscale, middle class and low-income areas (even an area that was very poor which she called the ghetto) she pointed out how they get their electricity – they have to run the lines themselves, water – it gets delivered and they get their tanks filled up to have water, how they build homes, and so much more.
She knew so much about so many things. The plants and flowers all had multiple uses and she knew what to take for every ailment or issue. We tasted, touched, smelled, listened and asked questions.
Me, being me, I had to throw in a business idea. I would have bought a book from her with pictures of the plants and fruits and all their uses and what they contained. She thanked me for the idea.
Faye, our guide, told us she would never leave Jamaica. She said life was sometimes hard there but life in America was harder and more stressful (she's been here a couple times and worked for a few months).
She loved being able to pick fruit from a tree in somebody's yard and know it was ok. Spending time on an off day deep in the woods just chilling was heaven for her.
The simple things.
It wasn't about things, possessions, clothes or the size of her home. She had enough and was happy every day…
… because she decided to be happy.
How simple is that? We can ALL do that and be that.
No matter where we are in our lives now… no matter what's happened or is happening.
Choosing to be happy!
I'm choosing to be happier (I'm generally pretty happy), to smile more (I sometimes have a serious look on my face which makes people think I'm not having a good time or that I'm not happy), and to just appreciate everything and be grateful for every blessing every day… and there are many!
I'm also making a conscious choice to contribute more, to make a bigger difference, and to give back more – in every way possible.
Want to see how much I give?
Join me for the Action Accelerator Event™, November 7-10, 2022, from 9am – 1pm Eastern (it's virtual). I always give a lot at my events but this one is going to be even more special.
I have a new goal to help 100 businesses reach their profit, income and impact goals in the next 18 months. Want to be one of them?
Go to www.ActionAcceleratorEvent.com now to register – your investment is only $97 – that's going up before the end of this month!
To Your Success –