August 17th, 2023 by Diane Conklin under Business - General, Business Strategy. No Comments.
Do you have somebody who makes you feel special and loved? (Hopefully, you have more than one person.)
I sure hope so!
I'm grateful every single day to have my person!
And, just when I thought this week couldn't get any better, a new client sent me a birthday cake.
Hand-delivered by the chef/owner/maker of the cake… to my front door!

As a business owner, and a person who coaches and consults with other business owners, I'm always looking for lessons.
It's easy to find the things that frustrate you and that you think could be improved on… customer service challenges and issues seem to be everywhere these days.
It's a bit harder to find outstanding service and amazing attention to detail.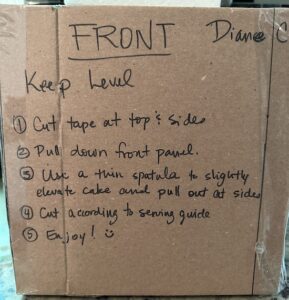 Well, I found it Monday when the cake was delivered – 2 days before my birthday!
It started with the handwritten directions on the box about how to open it – so I didn't damage the cake (or ruin it in my case – I tend to do things like a "bull in a China shop").
A birthday card from my client and a card on top of it that said, "Please open before serving the cake".
In that card were directions on how to cut the cake to get maximum servings out of it, a list of what was edible and what wasn't, a list of ingredients and more.
It wasn't fancy. It wasn't sophisticated.
But it was attention to detail and impressive.
There were a few things I would have added or done differently. But that's not the point of this particular message.
It takes so little these days to impress people.
Attention to detail isn't hard… it takes a little extra effort – but it's so worth it!
A little effort goes a long way!
Easy referrals happen when you do good work!
What do you do in your business that impresses people and that makes them talk about you?
To Your Success –