November 16th, 2023 by Diane Conklin under Business - General, Business Strategy. No Comments.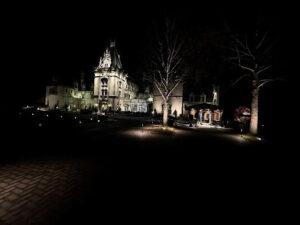 I spent the holiday weekend at the Biltmore Estates in Asheville, NC last weekend.
So many amazing things about the visit and the property as a whole.
As always, I found business lessons in many places… I'll tell you about that next week.
What's interesting is how one thing can taint an entire experience.
I spoke to the most pleasant and helpful woman on the phone when I booked the trip and things we would do while we were there. She was helpful and had real experience with many of the events, restaurants and activities.
She convinced me (sold me) on a couple things just by her excitement and by telling me about her experiences. She couldn't say enough about how good the homemade yogurt was when she "recommended" the breakfast package when I wasn't going to get it – and she was right!
She also told me about one of the restaurants that does a special three course dinner only during the Christmas holiday. It sounded like just what I was looking for. Dinner and then the candlelight tour of the house.
Perfect!
It wasn't… from the moment we showed up for our 6:30pm reservation.
There were two lines, and nobody seemed to know which line to get in. Turns out you had to check in on the left line and then get into the right line to wait to get into the restaurant.
Yes… I did say I had a reservation… I'm still not sure why we had to wait in line. Or why people with reservations later than ours got in before we did.
I won't bore you with all the details. Just know almost everyone in the lines were confused, irritated and questioning the "system".
The worst part was when I asked about it, I was told by the young lady checking us in in the first line that "she only worked here part-time, and she didn't know". Then said it wasn't her job.
Apparently, all the supervisors were busy bussing tables and couldn't come answer my questions.
There were problems with the food as well.
This one short experience could have ruined the entire two-and-a-half-day experience at Biltmore. I didn't let it, but it could have.
Everything you do in your business is either attracting or repelling people. Either making them want to do business with you or making them want to never come back, not spend money with you and tell others about their bad experience.
Put simply… you're either gaining or losing clients. Said another way, you're either making more or less money.
What do you want to be doing?
We'll be talking about attracting clients in more detail at my Action Accelerator Event™ coming up in just a couple weeks.
Go to www.ActionAcceleratorEvent.com now for more details!
To Your Success –