February 1st, 2018 by Diane Conklin under Business - General, Business coaching/mentors, Business Strategy, Marketing, Social Media. 1 Comment.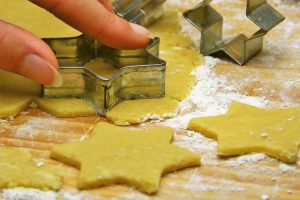 Everybody wants to find easier, faster ways to get things done.
We live in a faster, bigger, stronger world. Get more for less. Everybody loves a BOGO (Buy One Get One – including me).
We all want to get more done in less time. We all want to work less and make more.
That's all great…and you can't succeed with Cookie Cutter systems in your business…
When you use a cookie cutter, everything comes out looking exactly the same on the other end. Your business doesn't work like that. And, you don't want it to. You need variety, you need to distinguish yourself – not look like everyone else in your industry or field.
You're different, your clients are different, your offers are different, your products and services are different…so you cannot use a cookie cutter system to grow your business.
Cookie cutters are easy to sell because people are looking for easy answers that are repeatable and that they can do over and over again, getting the same result and outcome. And, for certain things you can use a recipe, a formula or a system…even for things in your business.
But you can't use them to grow your business and to succeed at high levels and make an impact on people.  For that, you need individualized, customized solutions and systems specific for you and your business.
I know this goes against what the majority are selling you. I'm challenging you to stop and think in a different way, to use your critical thinking skills, to not be on remote control, to be the leader in your own business and to decide for yourself. What really makes the most sense…most of the time, the answer isn't whatever is easiest. Left to our own devices, we tend to choose the easiest path. The easiest path most often leads to mediocrity…and you are average or mediocre, nor do you want to be.
You want to excel, to be the best, to grow your business and to make all your dreams come true…don't put all that in somebody else's hands.
If you're committed to all of this. To excellence and to having success and not getting mesmerized by the cookie cutters, I'd like to invite you to come to "Your Business Your Way™", April 4-5, where I'll personally help you develop your own path to success without any cookie cutters.
Go to www.YourBusinessYourWay2018.com to see more and register!
To Your Success –
Diane
PS – If you make the decision to come and register for "Your Business Your Way™" before Friday (tomorrow – 2/2/18), in addition to the bonuses already listed on the site, I'll design a marketing funnel for one program, product or service for you at no charge (normally $1,497.00).