December 28th, 2017 by Diane Conklin under Business - General, Business coaching/mentors, Business Strategy, Marketing, Social Media. No Comments.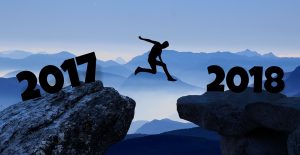 In just a few days, 2017 will be over and we'll be ushering in 2018.
The question is will 2018 be different or will it just be more of the same. Will you add 2018 as just another year of the same old, same old, where you have to learn the same lessons over again. Or, will it really be a new year, with new things, new lessons, new beginnings, new adventures, and more.
You get to decide…
As the year draws to a close and we reflect and plan (you are planning aren't you?) I wonder how many people truly added a year of experience and how many just added another year. Ask yourself, do you have X years of experience or do you really have 1 year of experience repeated X times…
It was an interesting year in many ways, and one I'm glad to be closing the book on. As you close your 2017 book, I hope you can say you had new adventures, a lot of laughs, joy and that your business grew. I hope you're where you want to be – or at least very close.
If you're not as pleased with your results as you'd like to be, I hope you'll take some real reflection time these next few days while you're relaxing a bit and spending time with friends and family, wrapping up the holiday season to be present and loosen your grip a bit and have some fun imagining the possibilities for the new year…
Then, January 2nd, I challenge you to hit the ground running and make 2018 your best year yet…no matter what!
Happy New Year!