September 17th, 2015 by Diane Conklin under Business - General, Business Strategy, Information Marketing, Marketing, Uncategorized, Video. No Comments.
I'm such a dork…
The first thing you'll notice is the marketing calendar in the video is upside down – not once, but several times.
I guarantee you that if you'll do just one thing different next year than you did this year – use a marketing calendar – it will increase your profits!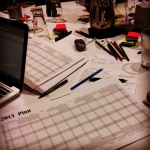 And, I'll help you set up your marketing calendar and your financial plan…so the two match up and you have an easy to follow plan for 2016 that will get you exactly where you want to be next year.
Imagine, doubling your income in 2016…it's possible, and I can help you. One of my clients just made 265% more in September 2015 than she did in the same month in 2014. Another one of my clients made $47,213.56 in one month with a relatively simple promotion.  They will both be in Atlanta getting focused and setting up their business for the new year.
You can meet them at the "Implementation Coaching Event™," October 8-10. Time is running out and space is very limited, so reserve your spot now…before it's too late!
Prosperity & Abundance to You –
PS – I'd love for you to leave a comment or share the post! Thanks!